Scrap This!
As the lovely Silver mentioned about scrapbooking because I had mentioned it myself in my earlier blog post and I thought why not show some of it off? I like sharing about that sort of thing.
I got most of my supplies from different places: Hobby Lobby, Walmart, Target etc; I got the scrapbook itself at Target. It's 8.5 x 8.5 and it's good enough for me to use ;D You can get bigger one if you wish. I know I got my aunt into scrap booking but she has yet to use hers..well because it has to do with her father(my grandfather who passed away last spring) so it's a bit overwhelming and emotional.
I'll talk about the different pages I have..well some of them anyhow. I have a lot of blank pages for future things etc;
First up, I'm a bit scrapbooker. I started scrapbooking just a year ago and I felt like it would be a good part of a gift to my lovely fiancé. It originally marks our first year together-2010/2011 though there are some elements of a next year.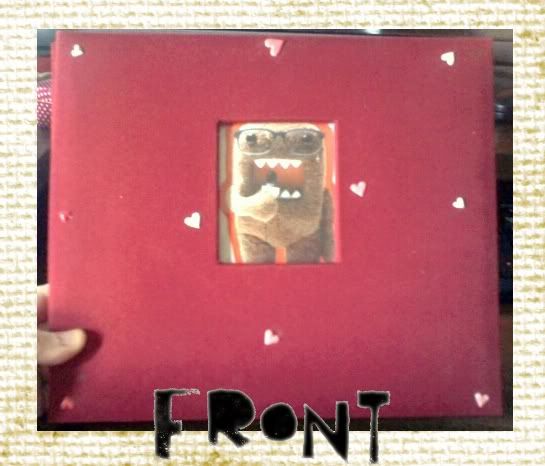 This is the front cover with Domo at the front (It's a sticker that I placed in the little photo thing plastic thing. I fell in love with the deep red color ;3

You can't read it but the stickers say: This Moment, Happiness, Memories and some more silver little stars. Silver and Silver but this is the title page!
The front inner of the scrap book ;3 I wrote a cute little message of love and used silver letters as my font for the pages and everywhere else.

This page actually is next after the title page. It details the story of how we met and the next one is just another cute page ;3 I love using embellished letters!
Now it's us-well from high school and Frys is where we met-our badges respectively.

A few ideas I did. Pretty simple. I have movies, engagement, cards, dreams, wedding etc;;;;
The date page and the back cover.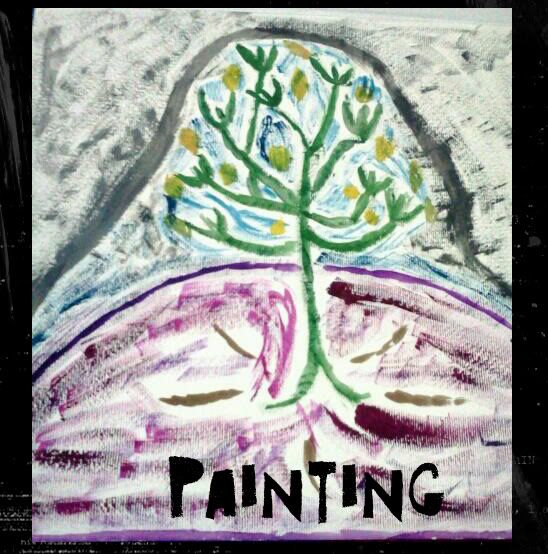 A painting that I painted on March 3rd, 2012. The lemon tree represents me and the purple/magenta hill is just signifying how weird I am. Lol The gray is all the bad things in my life(including my bipolar disorder), the gray darker shield is my love Jose, also the joy I feel with him is the blue though some gray does get in but the blue is pretty much powerful.