Let's Talk About It
So I went to orientation finally with my mother(because I don't drive and whatnot)and she sat with me throughout the 2 hours, and basically I learned a few more things about my program. Apparently, my major is going to be psychology and/or history; and so that means I'll be transferring out of my community college sooner or later.
New haircut!
And when I saw my test results, I was appalled. I failed the essay which sadden me because I'm a great writer but I passed the writing regardless because I rocked the writing portion of it. Seriously, to the point where I'll have to tutor my mother. That's funny. Also, like I suspected and knew, pre algebra for me.
Three classes in fact of it. I'll just do it and let it be. I could of done some sort of Math bootcamp but my mother talked me out of it. It isn't worth it, but I shouldn't feel too bad, my mother failed the entire test the first time before retaking it and math has always been a weak point for me and thanks for all the comments about it. I appreciate it!
Yeah, I plan on being a full time student because I have the time but I worry about financial aid because my husband makes a lot. He works for a bank after all. Sigh. I worry if I can but let us hope I get something back, so I can start registering in the fall when the times comes. I wanna try for full time student but I'll take part time if I have to.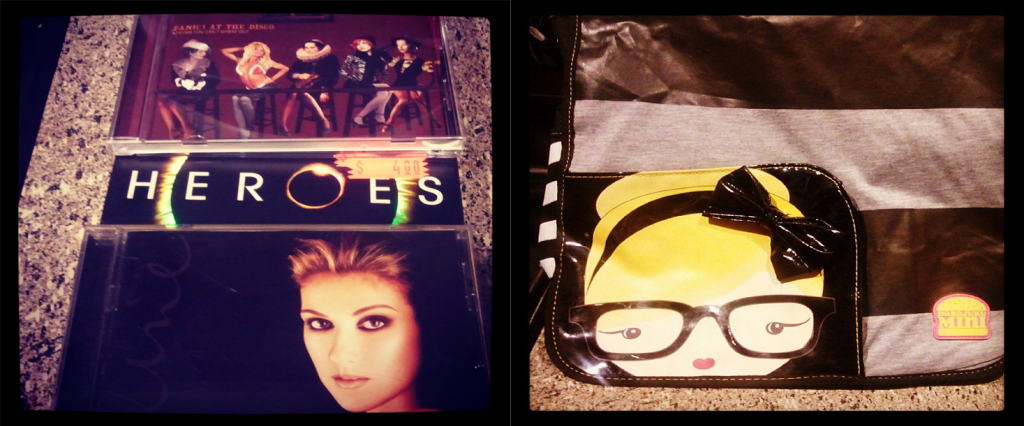 New items(Celion Dion, Panic at the Disco, and Heroes Season 1) and my bag for school
Then it happened, the roommates are moving out and they are getting their stuff pretty soon this upcoming week or the last of this one; still I was stunned for the first time. I wondered where they were going to stay and if we were still cool. In some ways, I enjoyed their presence even though I had some difficulties and a lot of those difficulties can be attributed to my fractured/sprained ankle and being stuck home so long. Being home so much without nothing to do really does get to me so I try to do things but it never works but going to school might help me and like what the counselor says, education can only help not hurt.
But don't worry about the roommates, they have some place to go to and they are doing the best, and knowing that we kept our friendship makes me happy. I couldn't be happier. They are good friends. I just don't do well with roommates except my husband and that is a fact.
Also the subject of the honeymoon came about again and once again I wanted to go A-Kon (a anime convention near us at the end of the month) but like always he is worried about my foot since it isn't healed all the way, but I swear it feels better (despite the fact it hasn't healed all the way and the fact that I can walk on without the boot) and I can walk better in the boot. I also told him that I want to go to a hotel as well…let us see how that goes.
Then to close out, I wanna share a drabble I wrote and I'll give a note that it doesn't have any story to it other than I was inspired by the rain and the French language, and no, it isn't any part of any story. It is a stand alone for this moment; and before I forget forgive any mistakes, I wrote this when I was really tired and in a hurry. Enjoy
She pours out her words in mixed up French and English, always stuttering at the last syllable. It is sort of a mystery to her but she keeps playing with the idea of some event about to happen fully, not knowing whether to engage or detach, so in the end, she becomes hopelessly trapped in a world without meaning. A world of without has her trembling inside and as she lights a cigarette, she hardly takes notice of the passing of people.

What was it all for?
What meaning did it hold in before?

She couldn't care more without savoring the bits and pieces of it all, yet still her language remained broken, her face unchallenged and dirty, and her hands stung and itched. Who was she? Who was going to? What hope did she have at all?

This was a world without and a world undefined and lonely, a world splintered and crazy that it forced her with the best of her abilities to survive.
Busier Than A Bee
So lately I've been busy with school things like taking a placement test and whatnot; And let me tell you that I did great on the reading portion but not so good in the math, though I have no idea about the writing part. I'll find out the score Monday when I go into a boring 2 hour counselor visit. I won't enroll until the fall which is steadily approaching and which has me excited! Booyah~ Though I'm not sure what major I want in college. I wanna get the basics taken care of.
I've already been to my college campus and it's huge! Okay, I exaggerate but still coming from a slightly big high school to a mighty college is something and brings a whole new perception. I realize that so much is bigger than what I am used to and I should understand that whole heartily.
I understand that I'll only take 1 to 2 classes depending on my financial aid (and mental health) which I hope will be something and can cover the cost because I already have to take remedial math. I guess that isn't something to be ashamed of. I can't do math and I'm not afraid to say so. Some people need the extra help and there is no problem with that.
But yeah, I still have roommate trouble which doesn't make me proud or happy but they've been gone recently and it's been calmer because of it. I forgot how much I missed the calm.
Me with my new FFX (from the character Yuna, in case if you didn't know) earring!
Also books have been my sanctuary lately, and to top it off, I've been busy visiting the library and buying books at Half Price Books. I have so many to read now, it's funny but I know I picked up good books for sure. Not to mention that I won 2 tickets to see the new Star Trek movie (Into Darkness I believe) and so I'm pumped about that. Can't wait for that to come out.
Jose and I celebrated Mother's day with my mom this last saturday and it was fantastic. We went out to eat at Olive Garden and then watched a movie back at our place, though sadly we didn't spend time with my mother in law because of time and money issues, still either way, we enjoyed the day.
There is something I've noticed, people have been a lot kinder to me plus they ask questions because they see wearing this walking cast. It's interesting but my therapist told me that I'm putting their behavior to what they see and it all makes sense honestly. Still, I have a lot of time left in this cast but I know I'm getting stronger every day.
Closer To The Moon
So I've been having a bad week and it's something that can't be helped but where is it all coming from? I don't know. I really don't. At the end of one ordeal, I was vindicated but it was tough to see someone lose faith in me and then there was that misunderstanding with that friend which ended poorly but had me thinking.
People will get mad at you but what matters is how we deal with it. If we take it and spins it more positive way instead of giving into the negativity. People will get upset, there is no changing it but it's to be expected because you're dealing with people and expectations sometimes aren't met.
You can stay in the bubble that people will be happy forever and they won't ever be mad, but that isn't reality.
Then, I don't know what to do with the roommates. They're great but like what one roommate told me is we are getting tired of each other. My mother resents them for not helping that much because honestly, they are living here for free until they get on their feet and though I'm not happy with this arrangement, they are close to getting a place. I tried making coming up with solutions but it never works.
It leaves me in a bad position. I don't want to ruin any friendship. It's getting harder for me to keep on trying.
Though I do have good news among the bad, I'm trying my hardest to get into college and it might work. I might be selected to go into the fall semester which is great for me but due to a lot of conflicts with rides and schedules, I'll have to do online schooling which is fine with me.
Honestly, I'm just tired and exhausted mentally and physically. I really need a vacation, my honeymoon, anytime soon and with college maybe starting, I might not get that chance which worries me greatly.
Then I finally saw my ex which was something weird but okay. We all three hung out(Jose, I, and him) and just talked. His life has greatly changed but that is what a years do to someone yet he was still the same in personality which made me smile. I like to surround myself with people that make me laugh.
Just a current picture of myself
I know after that incident when he kissed my cheek I swore I would have nothing to do with him, I just realize I can't live without his friendship. He was part of my heart and still is (and I say that in a non romantic way of course) and I can't throw away parts of my heart like that.
He was just a big part of my life and growing pain, it would be a shame now to throw it away, but anyhow, it was a nice little visit.
Finally, I finished the process of changing my last name (I went to the Social Security office), well officially anyhow. It's done with and that means to everyone I'm Mrs. Espinoza and I couldn't be happier. I know I touched on it in previous entries but I thought I'd revisit it.
Also, as you know our car overheats but when Jose and I visited his parent's house, we talked to his dad and came up with a good plan.
We're going to fix up and sell our car and then buy another one. Probably a used one which is great to hear, because at this point, our car cannot and will stand the Texas summer by any means possible, and we were both thinking about a much smaller car which will make it easier for me to get in and get out of the car.
Maxwell from Scribblenauts!
Still, it's through this act of generosity and kindness that I can thank my father in law. I wish I could do more for people that are there for us. I can't imagine the debt we owe them and I don't want to know. I never understood human kindness before but I'm starting to now.
Also Iron Man 3 was awesome and funny yet still, there were a couple of twists I didn't like so much. I gotta say the first Iron Man is still my favorite.
Green Gentlefolk
So I have bad news about my ankle, it seems like I don't have a simple sprain but rather a fracture(Medial Malleolus fracture to be exact), but it's a tiny one which my regular doctor didn't see. It's a pain in the ass but I can walk as long as I use my walking cast. I'm still bummed about it because I have to miss Comic Con this year and I don't know when our honeymoon will be.
It all depends on my ankle and when it heals up all the way and I don't exactly know when that is. I'm just trying to be patient as best as I can, but my ortho doctor was amazingly funny and his bedside manner was great. He saw me as a person and not just an ankle which relieved me.
Apparently he's very popular and thus we had to wait for awhile to see him, but the downside was that we were denied for a MRI for my ankle. Sigh. Damn insurance but then again I should be grateful at least. Not many people have insurance. I'm lucky.
Besides that, it's been okay. I'm still trying not to let the little things get to me. I told my therapist (after missing my therapy sessions for like a month due to my ankle)about my problems that included my roommates and she immediately called them free loaders. Sigh. I'm really really really trying. I'm still agitated like hell. We are all tired, but we are trying so hard. It's not easy for any of us.
Anyhow, I lost some weight. I'm down 10lbs but what really disturbs is the amount of hate I get from family when it comes to weight and food. I got ice cream as a snack and immediately got attacked for it. Hell, I don't have ice cream all the time and when I do, it's rarely. It is a treat for a reason so it makes me mad when people jump on me. There is nothing wrong with this practice at all. Also my grandmother is obsessed about my weight and that is all. She doesn't see that there is more to me than weight.
Yes, I am heavy but hell I'm trying and so far I lost weight. It proves that I can do it. I just need encouragement not negativity.
I'm already conscious about my weight but it doesn't help that others are cruel about it. I'm more than my weight. That is worth repeating over and over. Not to mention my grandmother was pressuring me to have kids already. Hell, I'm 23 about to be 24- I'm too young for that and I'm not ready. Jose and I are not ready I should say.
Another thing is I can't let people manipulate me anymore and I'm talking about other people now. I came to the conclusion that I had to let go of some people and just hope for the best. Sometimes there is nothing you can do. Sometimes you have to let it be.
I'm back into the French Revolution (1789 one) and I'm back into history. Makes me wonder what I wanna do with my future.
My new dress bought by my mother
Things are the way they are.
Changes Are Sweet
So it's finally done, well at the least the easy part-I finally changed my name at the DMV. It's no longer Garcia but Espinoza and I couldn't be happier. There is a reason why I wanted to get rid of my name so bad and it has to do with my father.
I mentioned that he didn't really want a relationship with me and I felt bounded to him through my maiden name, so when the chance came, I changed my name. But I've been out in the world thanks to my walking boot. I can't exactly walk on my bare foot but with the aid of my boot, I can walk…very slowly.
The walking boot
And my mother is considering moving into our apartment complex…which can either be under or overwhelming. It depends.
The home front is okay, it could be better. I'm trying to have patience and optimism at the situation and it isn't easy. I'm getting tired of the fighting and everything is starting to annoy me but I won't let that get at me.
They are trying their hardest.
Also I started several new K-drama and J-Drama along with a Spanish Drama(historical), and I'm hooked again and it's funny. There was some talk of me going to college and mom helping me…we'll see if that happens because I don't think I'll get a job and I realized that I want to do more with my time and college seems like the answer.
Let's hope that I get in.
Anyhow, this is my semi-short update. I'm still alive I promise!
Less Than Perfect
So it's been a very emotional time for me. How so? This whole not being able to walk and the fact that my roommates are less than perfect. It reminds me of the reason why I sworn off roommates but here I am and it's grating on my nerves.
On one hand they are somewhat helpful and caring but on the other side, they aren't. I don't want to kick them out until they have a better financial footing (which is happening, however small) and I don't want to be a bitch at all. It's not that easy at all to come up with some conclusion but something should come up but I do know that we are all getting on each other's nerves. God, I hope it doesn't end up with us all not being friends anymore.
I'm stuck for sure but I'm sure that some resolution will happen. Gotta keep my eyes and head open.
I made some incredible progress with my ankle. The bruising has healed so much and is almost gone. Wednesday I'm going to attempt to walk in a walking cast(walking boot), so wish me luck. I need every sort of wishes so I can walk again and face the pain.
Before
After
Not to mention that Jose and I will go on vacation when the tax return comes back (our honeymoon) which makes me very excited inside! Besides that nothing has happened, just another short entry.
Life Surprises Me
Sorry for not blogging in awhile. I just haven't been motivated honestly and nothing much has been going on, but now things have happened. How has my life changed in such a short time?
First off, I'm having trouble with my wedding ring and that means it tarnished too quickly (which makes me so sad), so I decided to buy another one which is tarnish resistant (let us see if I have better luck. I promise to take care of it better). So I'm expecting that in the mail. Yeah. But the only bad part it won't be the ring that I got married with which makes me even sadder.
Then finally it was my late's grandfather's birthday a few days ago and when I was forgotten, I decided to light a candle for him. It was the least that I could do even though I should of went with them(with my mother, cousins, and grandmother). *grumbles*
It's a candle made by one of my friends. Check out her shop.
And on Wednesday, I found out our rent is going up but only by 20 dollars which isn't quite bad. We can manage that and that was something that I was worried about, but now that my fears are assuaged, I can rest easy.
Then on the same day, I hurt myself. How? I fell outside and sprained my ankle/leg so Jose has been taking care of me the entire time except he had to go back to work so he would not get in trouble. I wish he could take care of me all the time. Now, I gotta wait for an entire week(ish) to be healed but that's okay. I needed to take things easy anyhow.
But my apartment's main office had a Easter party(of course totally early but worth it!), though on Easter itself (this Sunday), I intend to spend it with my mother and color eggs. Should be fun! I feel like I could never get too old for that.
Easter party!
Yeah, pretty short entry.
Zany Life
I didn't explain that it was a cluster fuck before the wedding with the guests. Why? Because it goes back to feuding inside my family. Believe me, they put me in a bad position but luckily everything worked out for the best and I managed to get my cake and eat it too(rare I know).
The fears that I had for my wedding day were huge and the rehearsal had us memorizing hand motions(and moving to spot from spot) and such, but luckily on the day itself we all remembered perfectly. I couldn't of asked for a better day. Honestly, I never dreamt about my wedding. I never thought I would get married but Jose changed my mind. I realized that I wanted to spend the rest of my life with him and to do that (while fulfilling his own dream), we got married. It hasn't been bad so far(pretty good in fact) and it feels no different though I know things have changed. I've had to grow up and realize that I can't do any of my self destructive behaviors anymore. I have to be more adult like etc;
We call each other hubby or wifey now. It's pretty cute honestly.
Oh, a lot happened before the wedding too. My best friend(and maid of honor) took me out to do my nails and out to lunch. It was pretty awesome because I've never had a manicure and pedicure before. It was magical. I've also got a wedding scrapbook where I'm putting photos in(as soon as I get more photos from people) and a random bouquet because I thought it too pretty to pass up.
I also waited until after the wedding to cut my hair. I quite like what was done even though it is short. Speaking of hair and make up, I had my cousin Nichole do it for me on my wedding day and she did a great day and after we Jose and I got married, I can't tell you how many people gave up congratulations on facebook and in real life. It was nothing short of amazing.
Not to mention that we got a lot of money (which all went to bills sadly except for a lone 20 that was used to get me a plushie and something Sailor Moon related) and a few gifts.
My wedding and engagement rings
The reception was quite fun with us doing the Harlem Shake and Gangnam style(though a lot more people showed up for the reception than the wedding), and in general just having a blast.
In short, the wedding and reception was a success <3 Our honeymoon on the other hand has to be done next month, either way I'm fine with it. I'm fine with doing whatever as long as I am with Jose.
And Jose and I have been married for a week(ish) so far and it feels great. I'm glad that I'm spending the rest of my life with him.
Wedding Picspam
I repaired my relationship with my mother and everyone got along at my wedding and reception!
Now onto the pictures!
Me in my dress and veil.
The Chapel
Me plus some groomsmen and bridesmaids
Me close up
Jose and I
Some pics of us and family
More family
Some pics of us and family part 2
The wedding party
Me and the groomsmen
Jose and his parents
Me with Jose and some family
the wedding cake
Jose and holding the knife
Jose and I cutting the cake
Our table
Jose dancing with his mother
Teddy bears and guest book at the reception
Wallpaper I made using photos from the above pictures and us from Second Life
<3
There was many more pictures taken but these are the ones I got my hands on and I'm glad and/or happy to be married to my best friend. I'm proud to be Michelle Espinoza. Everything went beautifully!
Winds Of The Wilds
So it's done. Jose and I managed to get all the fees paid and get additional help from my future in laws, because my mother backed out of her deal and my father can't pay until Friday. That led to more problems with my mom thinking I was purposely withholding information from her and saying that I hurt her feelings and that I was kissing my dad's ass. Basically I forgot to mention something to her and she freaked out. It happens. I had other things happening(like letting friends stay at our place until they get a place) and just being happy that dad was helping…I can't forget the wedding either. I've been busy figuring out so much.
My mother will still go to the wedding but we'll rub it in her face that we didn't need her. I really wish I could count on family and especially my mom. I've done so much for her too, that she forgets. Either way, I don't care. She lied and broke a promise and it's not my fault. She needs to stop letting dad controlling her, because in the end, it really came down to her saying that my dad should pay more when that wasn't going to happen. I just wish both parents would cooperate with each other, but they haven't and I don't see it happening in the near future. Sigh. (Note: I generally have a good relationship with my mother)
Alas, what can I do about it?
It is what it is.
I just have to accept who my parents are for better or worse.
Though I did learn that my future sister in law is giving us a wedding cake for our reception and I've finally settled on a theme of colors for the wedding. Multicolored! Think spring! Think flowers and the shades of light colors. That's what my bridesmaids are going to wear but it's a pain to make sure people show up the upcoming rehearsal on March 8th. On Wednesday I'm poised to meet the wedding planner and finally decide on decorations for the wedding. It's coming up and I'm excited! To mark the occasion, we finally got out wedding license but it hasn't been signed yet and it won't till the wedding.
The Marriage License and the teddys for the reception!
Even the reception hall is paid off but it's much later than the wedding (couldn't get it anywhere better), though Jose and I are in charge of the music for both reception and wedding. That's going to be fun.
Here are my song choices that have been finalize for the wedding:
Prelude Music Selection: Dearly Beloved from Birth By Sleep

Seating of the Family: Mothers: Saint Saenz "The Swan"

Processional Attendants: Song of Ancients Piano Version

Bride: Opus 23 by Dustin O'Halloran

Recessional: Staff Roll from Legend of Zelda Skyward Sword
Feel free to youtube them! There is a suggestion that Jose and I go to a Con for our honeymoon…interesting because I've never been to one and always wanted to go to one. So it's going to be perfect honestly. I can't wait to see what we will do for our honeymoon because as it stands, we can't be alone because we still have friends over. I don't know if I'll be able to spend time with Jose like I wanted. I don't know. It all depends.
Hopefully next post will have my wedding pictures :D I'm hoping anyhow! Yeah~
« Older Entries